Houston  Small Business Website Design Company
Affordable Small Business Website Design and SEO
Custom Designed Websites – No Templates
Do you need a beautiful, modern and unique website? We can help!
Impressive Web Design
Custom  small business websites built using the latest WordPress technology to make your website impressive and effective to help your business grow
Responsive Technology
Web Designs that incorporate the latest technology and features to showcase your business on any device including desktops, tablets and smartphones
WizardsWebs Affordable SEO
We utilize the latest SEO software and techniques to optimize your website for the popular search engines. We also can help with local SEO and Social Media SEO
Website Management
We offer a discounted site maintenance plans to keep your site fresh, updated, optimized and backed up. It's like having a Webmaster on your staff
Affordable Small Business Website Design Company in Houston, TX
WizardsWebs is an expert small business website design company specializing in providing professional  business web design, hosting, search engine optimization (SEO) and graphic design.
Make a big impression on your customers with a modern responsive website design that truly represents your Houston area business and makes you stand out from the competition. We provide fully customized web design that includes dynamic presentation, the latest in coding technology, and the specific features that your company wants.
Engage mobile visitors with a responsive design that automatically resizes itself to fit any phone, tablet, laptop, or other device.
Remove clutter and show your customers exactly what you have to offer with a website that's both visually appealing and easy to use. We've created engaging and unique websites for businesses across a range of industries.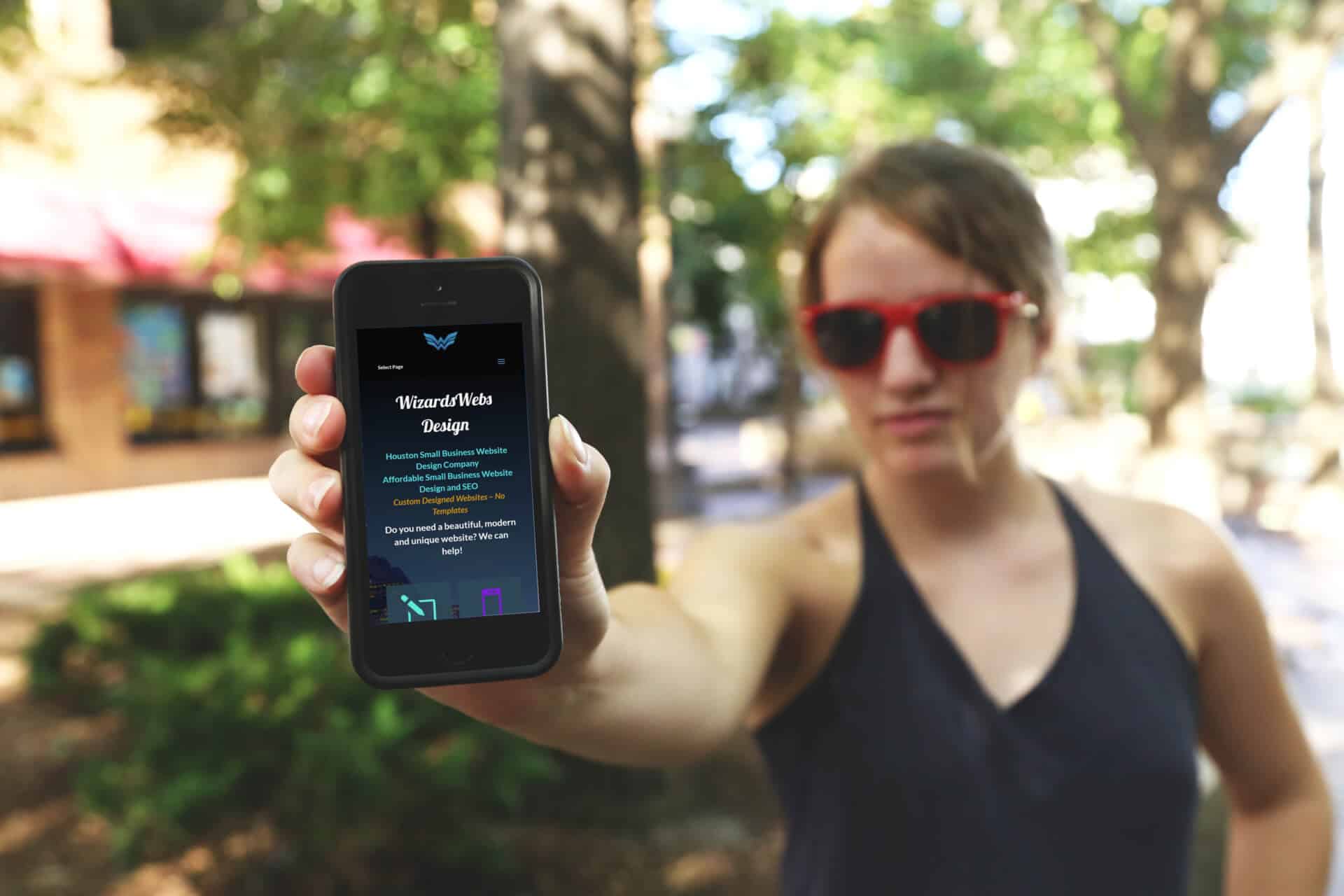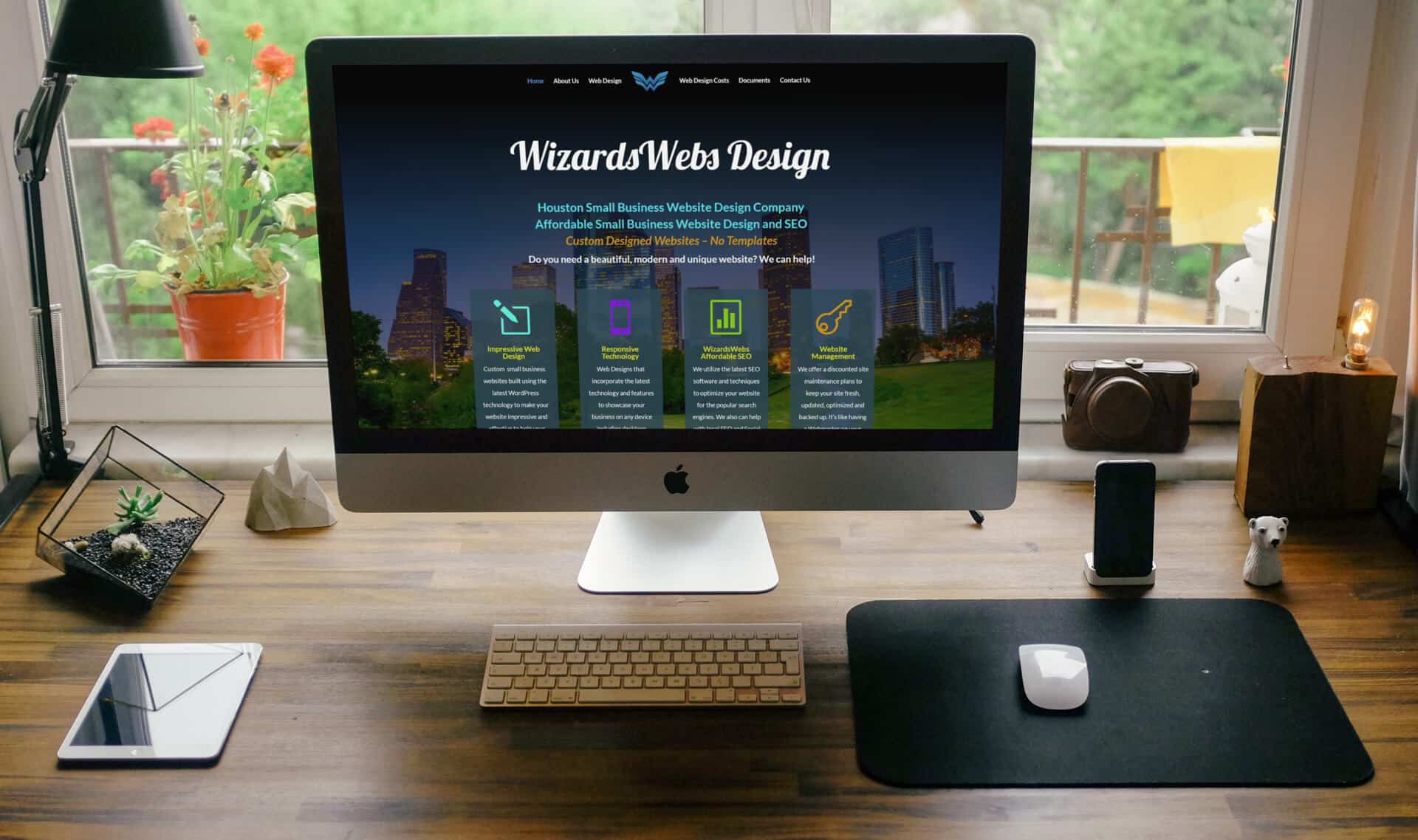 WizardsWebs Design utilizes the WordPress technology platform for both websites and blogs.  WordPress has matured into the leading website platform in the world today.  What makes WordPress so attractive is that it has the ability to add features and functions to your website through the use of plugins.  Subsequently, using WordPress plugins allow you to design a website at a fraction the cost of web design just a few years ago. WizardsWebs can fine tune your website's presentation for desktop, tablet and smartphones using these tools. 
There are so many advantages to using WordPress that we no longer work on any other type of website. After coding in HTML for decades, it is such a relief to be able to focus on design. It allows us to work much faster too. The result is high tech web design, delivered faster, at a lower cost to our clients.
SERVICES INCLUDED WITH HOSTING & MAINTENANCE
Personalized Service • Wordfence Security Scans • Bi-weekly Plugin and Theme Updates • Nightly Backups • Email
SSL Certificate  • Most theme & plugin licenses • Website Developer Hours
75% MORE ORGANIC TRAFFIC

75%

75%

50% MORE RETURNING VISITORS

50%

50%

80% MORE SUBSCRIBERS

80%

80%

60% INCREASE IN SALES

60%

60%
You can count on your new website to do it's job. Proper SEO insures more organic traffic. Impressive and useful web design yields more returning visitors. Well placed opportunties to subcribe engage more clients. Impressive presentation of your products and services provides an increase in sales.
Small Business Website Design Portfolio
Browse these custom websites designed and maintained by WizardsWebs Design. We pride ourselves on quality, attention to detail, and the best customer support you'll ever experience. You are welcome to contact any of these clients and ask them about their experience with WizardsWebs.  You will find that we are responsive, easy to work with, and we produce results.
Effective, responsive and affordable small business website design and maintenance.
Would You Like to Learn More?
If you would like to learn more or to discuss your project just give us a shout to get started. There is no obligation.
22902 Hausworth Ct.
Spring, Texas 77373
Phone (713) 817-3880
Email: steve@houston-webs.com
Office Hours
Mon through Fri
9:00AM to - 5:00PM
Conroe Web Design Company
Conroe Website Design
Small Business Web Design in Conroe Texas
Web Design Conroe Texas
Tomball Web Design Company
Tomball Website Design
Small Business Web Design in Tomball Texas
Web Design Tomball Texas